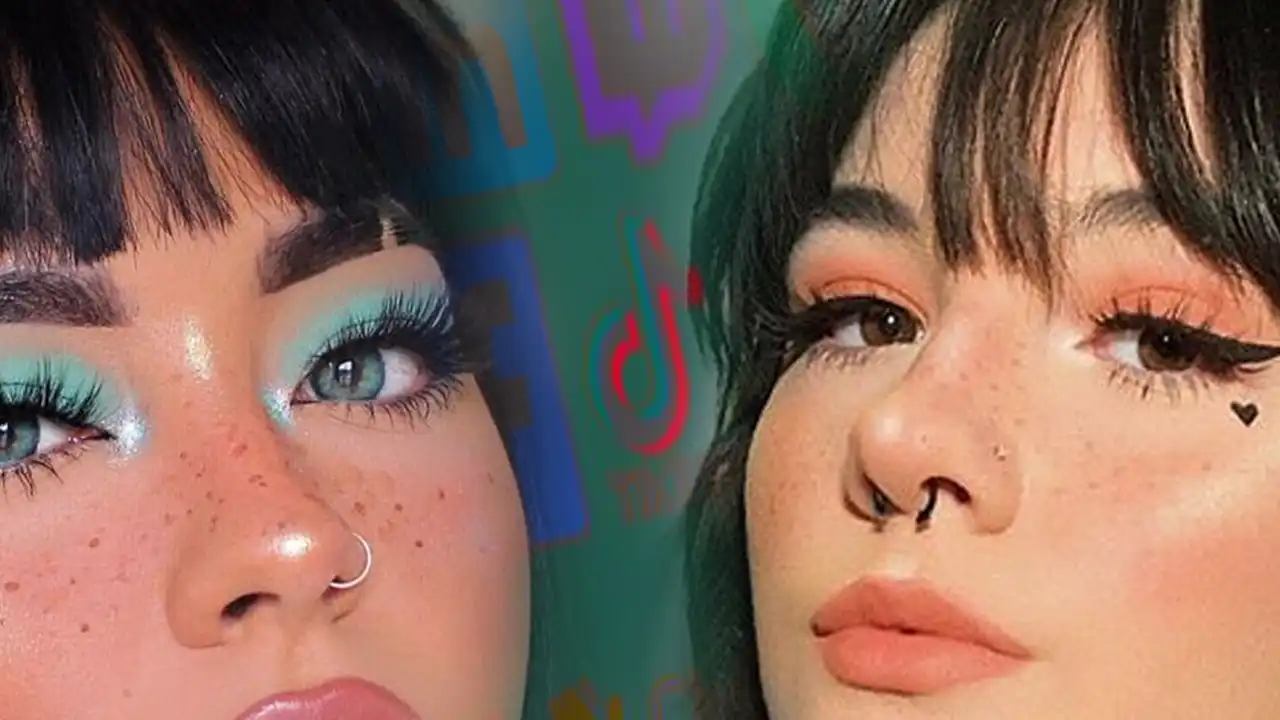 What is an egirl? How to do the perfect egirl Makeup? Find everything about the trending girl makeup over the social media.
The social media is going crazy over e girl makeup. E girls are now all over Instagram and TikTok. E girl aesthetic has been a viral sensation over internet, after the era of Instagram baddies and VSCO girls. If you are here to explore about e girl makeup looks and tutorials for it, you are in the right place. Well, for those who are figuring out what is an e girl and have no idea about it, don't worry, let's start with explaining what an e girl is.
E girl is short for 'electronic girl'. A girl who spends a lot of time on gaming and anime is the proper e girl definition. You may have come across Instagram or TikTok e girls with long and thickly applied eye liner. They also have tiny, cute shapes like hearts or stars drawn near their eyes. Most e girls have neon-colored hair and has some blush applied along the front cheek and nose.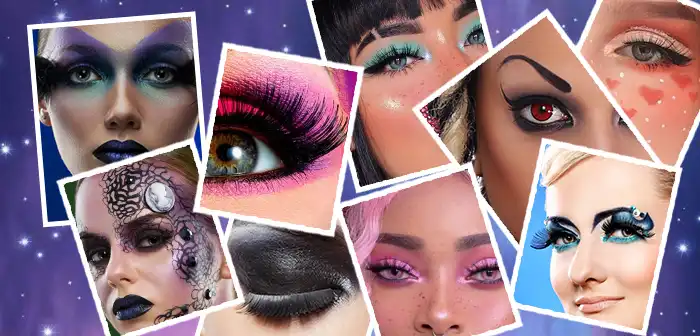 If you are trying to figure out how to do the perfect egirl Makeup, read along to find the step-by-step instructions for the perfect punk makeup tutorials.
Follow this makeup guide for emo makeup step by step for the perfect egirl makeup look. Get ready for an awesome selfie once you have completed the look.
Before applying makeup, it is very important to make sure that your skin is clean from any dirt or impurities. Use a good face cleanser with an effective face cleansing machine to get clear skin in no time. The very next step is to use a toner to protect and prepare your skin before applying any products to your skin.
After applying toner, moisturize your skin. For this, apply your favorite moisturizer and use Hot & Cool Skin Care Fit in its 36°C Booster Mode. This gives you a glowing skin and radiant looking complexion. After these steps, use Hot & Cool Face Skin care device in its 13°C Cooling Mode. This will cool down your skin and tighten your pores, giving full coverage and finishing look for your makeup.
2. Apply the primer for your skin
Make sure you start with the basic primer for your face. This ensures that your perfect egirl look lasts longer and prepares your skin for locking up the foundation.
3. Perfectly blend Foundation & Concealer
Next comes the foundation. Always make sure you use the foundation that goes with yours skin tone. It's better to choose liquid foundation as they are light weight and doesn't give you a cakey look. The egirl makeup is all about cheeks and eyes, so that it's important to keep your makeup light.
For the perfect finish in applying the foundation, use the Cover Fit Makeup applicator. It comes with two heads: Makeup Brush and Ruby Cell Air Puff.
The makeup brush evenly distributes the foundation with a smooth finish.
Use the Ruby Cell Air Puff along the T-zone and highlighter zone for the perfect dimensional makeup.
Apply a little amount of concealer to prime your eyelids as well. Once finished with the foundation and concealer, apply some setting powder to give a matt finish look.
The very next thing to do is to define your eyebrows. Create a natural eyebrow look with light feathered strokes to fill in the areas. If necessary, sharpen your arch lightly and try to blend it by combing the eyebrows. You can also follow some eyebrow makeup tutorials for the perfect finish.
Choosing the perfect blend for eyeshadow from the egirl eyeshadow palette is the tricky part, as it dominates the overall egirl makeup look. Some shades of peach, pink or coral can be perfect for a soft egirl look. But for a bold and dashing egirl look go for colors like blue, red or green. Whichever colors you choose, make sure you use only up to 2 colors to color your lids. An intense smokey eye shadow or dynamic 3D cut crease eye shadow won't work with the egirl look.
6. Bold & Long Eyeliner Strokes
It's time for the winged eyeliner. Apply thick, long, and bold wings for both your eyelids to get the perfect egirl eyeliner makeup. It's better to use a dark black liquid eyeliner for bigger wings for your eyes.
Add some cute and tiny hearts below each of your lower lash lines.
Use an eyeliner sketch pen to draw your hearts or go with some stickers to complete the look.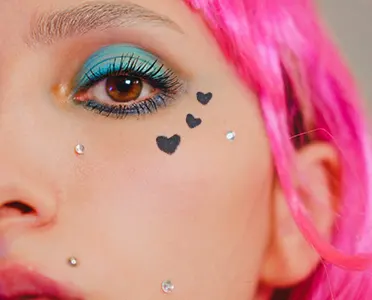 Make your look bolder with some Mascara. You can also add one some extensions to get the fluttery and feathery look for your eyelashes.
Cheeks as well as nose that are rosy and blushed are the heart & soul of the egirl makeup. Put on your favorite blush on the apple of your cheeks and the tip of your nose. Its always preferred to use large blending brushes for a perfect blend of makeup into your skin, rather than a patchy unfinished look.
10. Bring on the highlighters
It's time to grab your highlighters and highlight the tip and bridge of your nose. Make sure you use a powder highlighter for this part. You can also add a mild glow to your cheeks and forehead using a liquid highlighter or cream.
Pull out your brown eyeliners or eyeshadows and create some natural looking freckles for a better trending look. Faux freckles are ruling the internet and girls are crazy over it. You can also use some natural henna products to create lasting and natural looking freckles.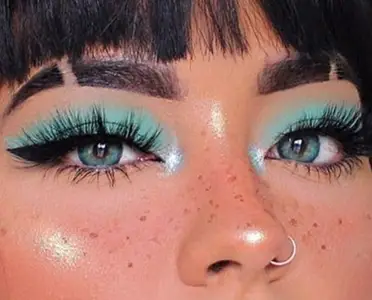 12. Find the shade for your lips
You can go for a simple tinted lip balm or gloss; in case you need a look enhancing your face and eye makeup. A peach or nude shade lipstick will be perfect for a soft egirl makeup. Or else for the aesthetic goth look, add blood red color lipstick to your lips.
13. Lock in your egirl Makeup Look
The very last and the most important step is to use a makeup setting spray to lock in your makeup. With this you can not only extend the makeup look, but also helps in blending your makeup with your skin. This enhances your complexion as well gives the finishing and natural look to your egirl makeup.
1. Complete Tutorial for egirl Look :
Checkout the video explaining all about the egirl makeup. Starting from the makeup to the entire egirl costume, this video will help you create the perfect egirl look you are looking for.
2. Peachy toned egirl makeup:
If you are in search of a cute peachy egirl makeup, the watch this video that explains how to perfectly blend in a peach toned egirl Look.
3. Soft egirl makeup look for dark skin:
Looking for a soft egirl makeup suitable for dark skin?? The following YouTuber, Evensya Xo, demonstrates how she creates a soft egirl makeup.
he following video will show you how to create a cute, blushed egirl makeup.
5. Blue toned egirl makeup:
If you are not into soft egirl makeup, checkout the following tutorial for a bold egirl makeup with blue tone. This detailed makeup tutorial will give you the idea to create a aesthetic goth look for egirl makeup.
Once you have learnt the basic steps to create the egirl makeup look, you can play around with it as you like. There are lots and lots of tutorials and trending egirl looks available but find out the one that works fine for you. Not every makeup style is your cup of tea. Choose your own style that represents your individuality and rule the internet once you are done. Which egirl look would you prefer? Feel free to comment it below.