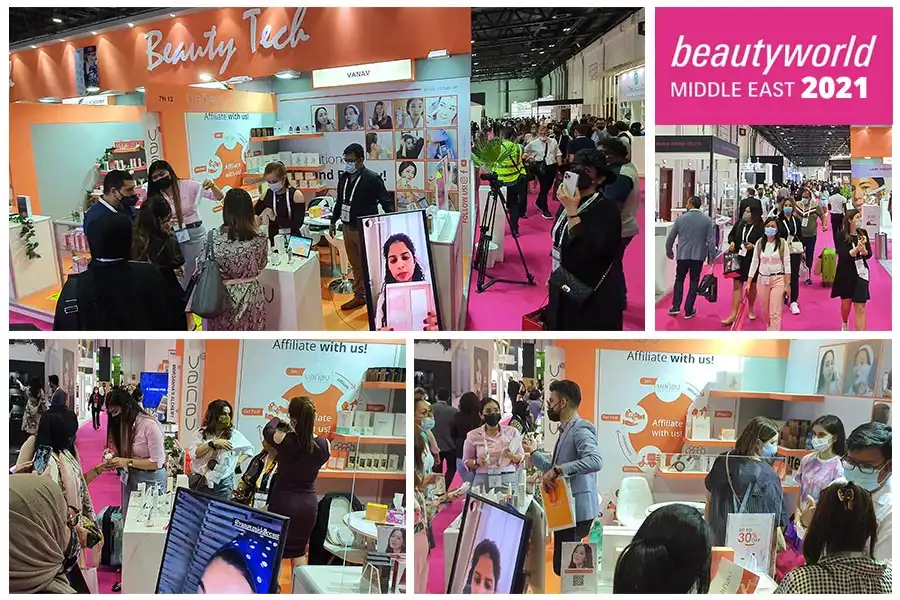 Vanav introduced innovative Beauty and Skin Care Products at Beautyworld Middle East,2021.
Beauty world middle east is the grand international event for beauty, skincare, fragrance, wellness, and lifestyle products in the middle east. This worldwide leading beauty show is a great platform where visitors can find reputed & global brands.
It was indeed a privilege for Vanav to make a signature entry within the beauty industry in Middle East. The 25th edition (5th to 7th October 2021) was a grand and productive event, given the trend from Beautyworld Middle East,2019. With a record number of 44,250 visitors from 138 countries and 1,800 exhibitors from 68 countries, the event was a massive success.
This year has been a step ahead and has come up with the hottest trends. The event was definitely a reflection of the future of beauty world.
Vanav at Beauty World Middle East
We were excited and grateful to be part of the greatest international event in the beauty industry. Beautyworld Middle East was a golden opportunity where we could exhibit and introduce our innovative products to an amazing audience in the beauty Tech category.
The productive event attracted a lot of people interested and curious about the wide range of Vanav beauty & skin care products. We are extremely delighted to see the happy customers and to receive their positive feedbacks.
Our Innovative range of products
The wonderful audience we had was engaging and curious about the new range of beauty tech from Vanav. Thank you all for the fun filled and interactive experience.
We hope all those who had purchased from the Vanav booth – Stand H12, enjoy using it and get wonderful results. Look forward to seeing, how you keep falling in love with our products once you have laid hands on them.
Once again, we thank each one for the success behind this great event.