All set for the grand Dubai Derma 2023? Vanav welcomes you to the world of innovation for beauty and life.
Dubai Derma 2023, the ultimate conference in the field, was back again for its 22nd edition, and we couldn't be more thrilled.
Dubai Derma 2023 promises to be an exceptional experience for everyone involved. With top-notch speakers, surgeons, skincare practitioners, and industry experts from around the world, Dubai Derma is the place to be for anyone who wants to stay ahead of the game in the world of dermatology. In addition to the outstanding educational opportunities available, attendees of Dubai Derma will also have the chance to explore the conference's specialized exhibition, where business entities in the industry can showcase and promote the latest skincare products and equipment.
Dubai Derma 2023 Exhibitor List
Vanav at Dubai Derma 2023
Dubai Derma 2023 was an amazing platform for Vanav to showcase the future of beauty tech. Our team opened a new door to the next steps of skincare and beauty. The productive event attracted a lot of people who were interested and curious about the wide range of Vanav beauty & skin care devices. We are extremely glad to see the happy customers and to receive their positive feedback.
We were more than delighted to meet many goal-oriented business entities, who were excited and delighted to extend hands for potential business deals with Vanav.
Vanav was back this time with a more advanced lineup, exclusive offers and more importantly, with more excitement and energy.
Take a look at the hero products that won customers' heart.
We have a wide range of products in our lineup which you can choose from based on your skincare necessities. From exfoliation to face liting, Vanav has it all covered 😇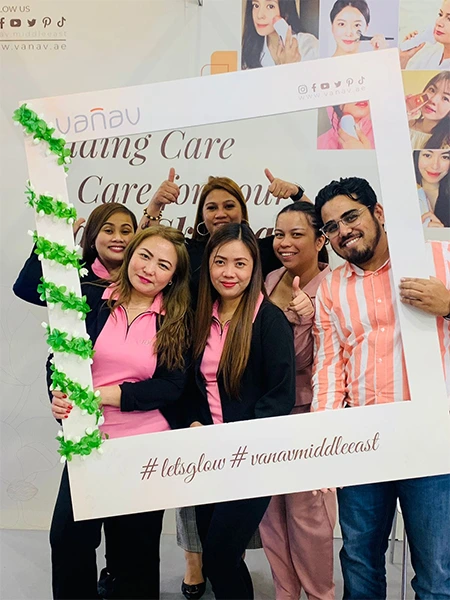 Once again Vanav team wholeheartedly thank everyone or making this event a grand success.