Help to penetrate the scalp care product
deep into the skin and make your scalp healthy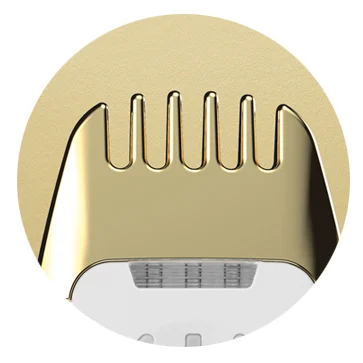 The head with brush shape massages scalp care and hair effectively.
Titanium is body-friendly material which is safe for sensitive skin and widely used in the medical industry.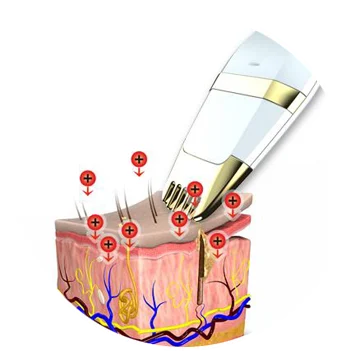 The mechanism helps penetrate ingredients of scalp care product deep into your scalp by applying a micro current and changing the electrical environment on your scalp.
It helps the skin absorption easily and quickly & makes your scalp healthy.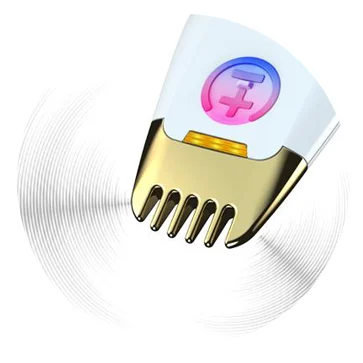 10,000 RPM micro vibration improves blood circulation on the scalp, helps scalp nourishment and oxygen supply, also helps in relieving a tired head.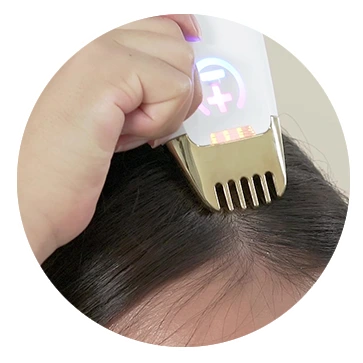 Yellow color LED which improves skin activation through skin regeneration and blood circulation can maximize the effect of the scalp care products and help to make your scalp healthy and clean.
What are the opinions of our clients?
Don't take our word for it, here's what others have to say.
This product helps with my bald patches. Use daily for better results. I have noticed my hair is much healthier now. Also my bald patches have are less visible and I see baby hair growing back.. Amazing product thank you
المنتج جدآ جميل ومميز وانصح جميع نساء العالم بستخدمه ليعيد لشعرها صحته ونشاطه
It's a compact device, very easy to use. Just divide your hair into partition and apply any scalp care product, turn on the time machine golden brush and gently massage your scalp for better absorption. Overall an excellent device with amazing results! I have been using this product for quite some time now and totally loving the effects. Would definitely recommend this. Thankyou @vanav.middleeast for introducing such an amazing product!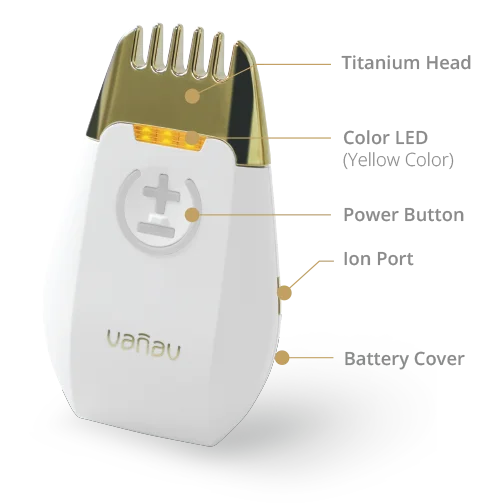 | | |
| --- | --- |
| Model | PSC-2001 |
| Color | White |
| Composition | Main body, User Manual. |
| Power | AAA battery x 2 |
| Size | 64*104*21mm |
| Weight | 54g |
Press the Power button to start.
Long press for more than 1 second to turn off. (±) Ion mode The (±) LED indicator will be turned on and blink during operation.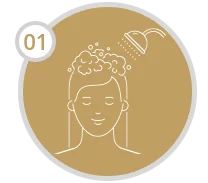 Clean and dry your scalp and hair before use.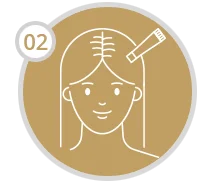 Divide the hair into partitions and apply VANAV Golden Time ampoule (or other scalp care product) along the scalp texture.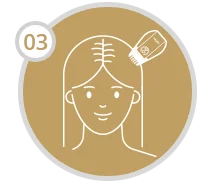 Turn on the Time machine Golden brush and gently massage your scalp for better absorption. Effective to use for atleast 3 minutes on the entire scalp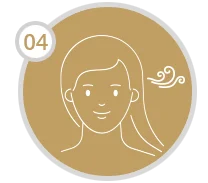 Dry your scalp naturally to absorb the product.